Web Version
A LOOK BACK ON OUR EVENTS
En avant math! A national initiative to promote mathematics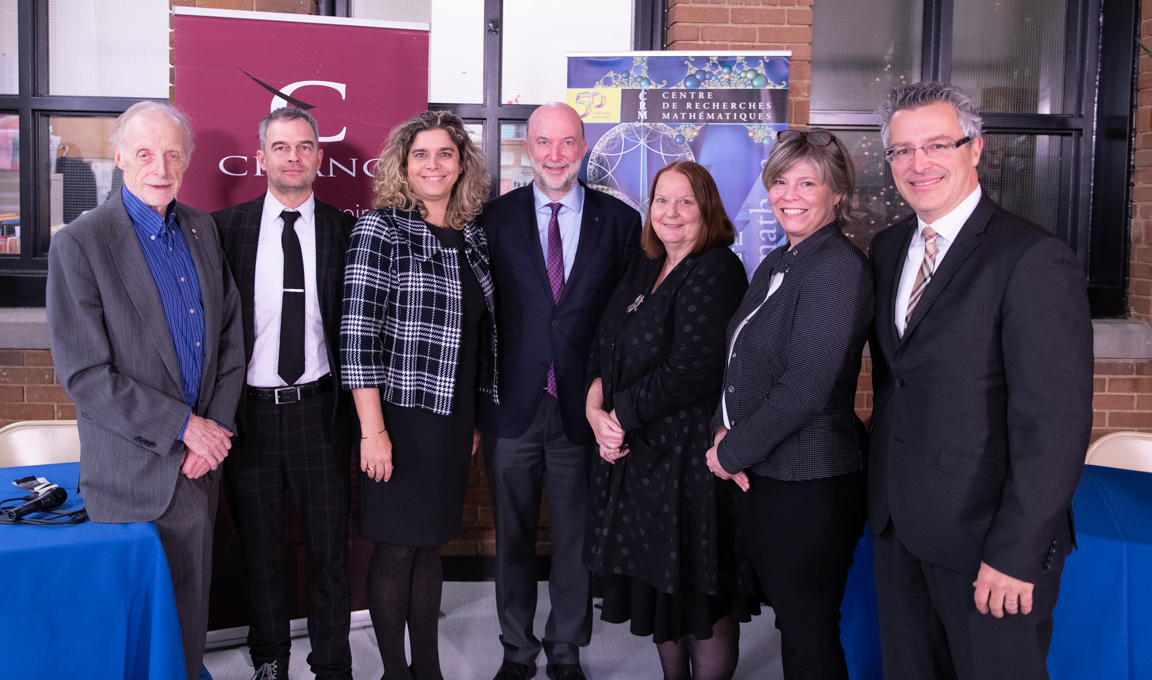 | | | |
| --- | --- | --- |
| | On November 28th at Barclay School in Montreal, CIRANO together with the Centre de recherches mathématiques (CRM) launched a national initiative, "En avant math!", to promote mathematics and increase numeracy. | |
Partners Table: HR Forum on the theme of promotion policies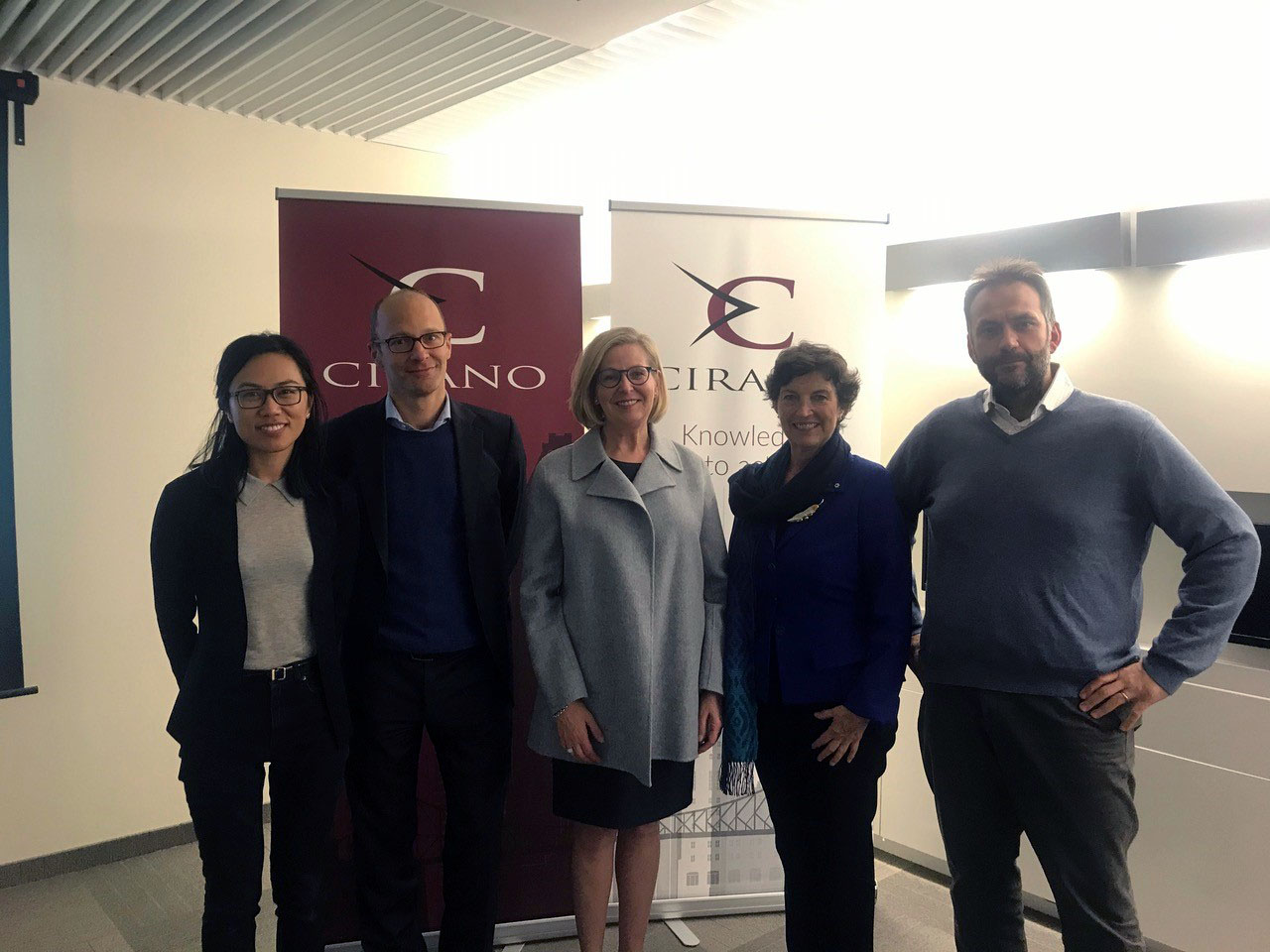 | | | |
| --- | --- | --- |
| | On 26 November 2019, CIRANO organized a Partners Table on the theme of human resources. This is the second edition of this Forum reserved for our partners whose responsible researchers are Fabian Lange and Decio Coviello. The discussions during this day focused on the theme of promotion policies within companies. Danielle Li of the MIT Sloan School of Business and Lucie Martel, Senior Vice President and Chief Human Resources Officer at Intact, presented. | |
Symposium: Launch of Le Québec économique 8 : Le développement durable à l'ère des changements climatiques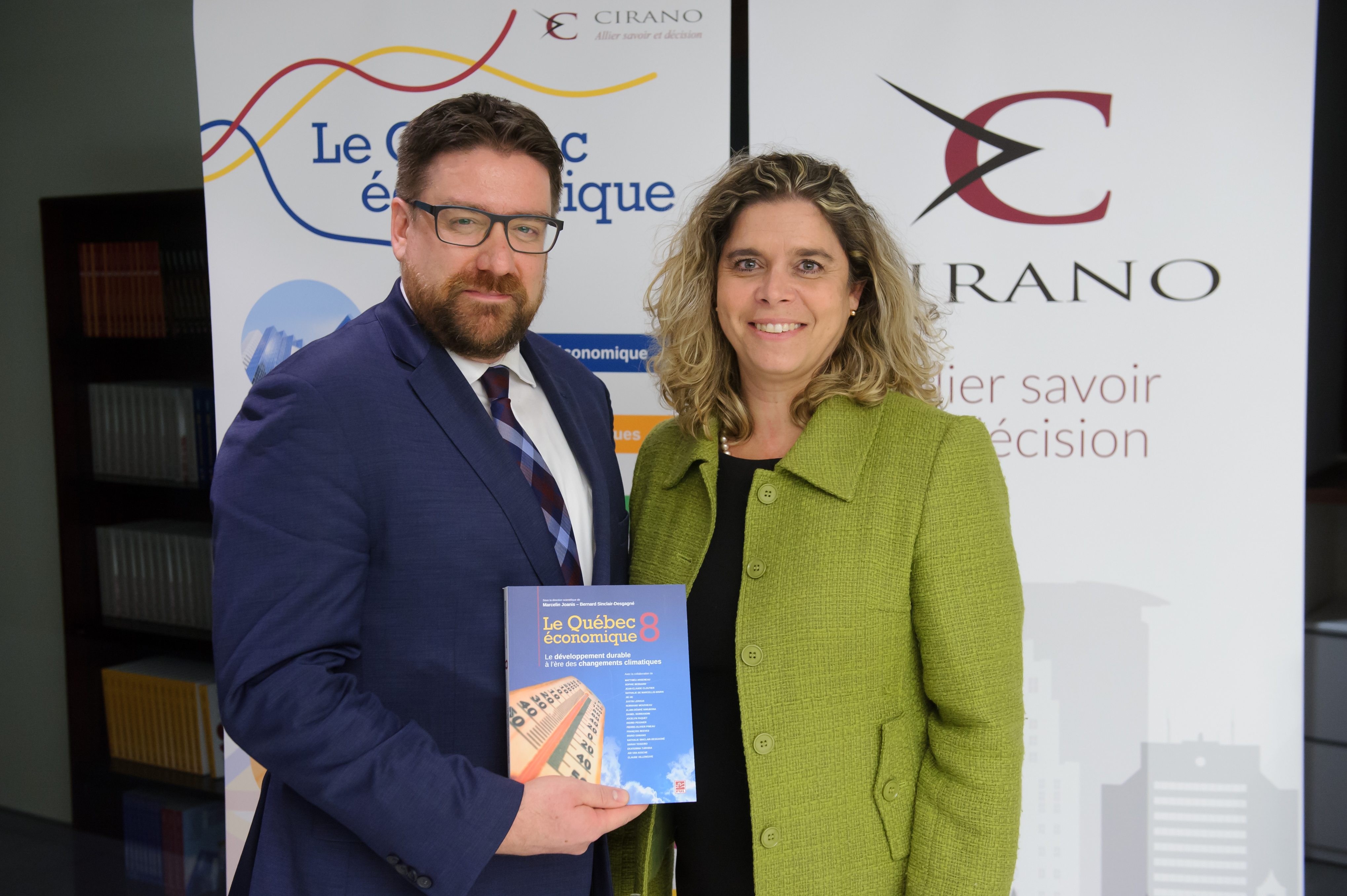 | | | |
| --- | --- | --- |
| | To mark the publication of the book Le Québec économique 8 : Le développement durable à l'ère des changements climatiques, under the direction of Marcelin Joanis and Bernard Sinclair-Desgagné, CIRANO organized a half-day symposium on the theme of sustainable development. Authors of the book and community stakeholders discussed the challenges related to this issue. | |
Conference CIRANO 25years: Sustainable Development, A Strategic Opportunity for Companies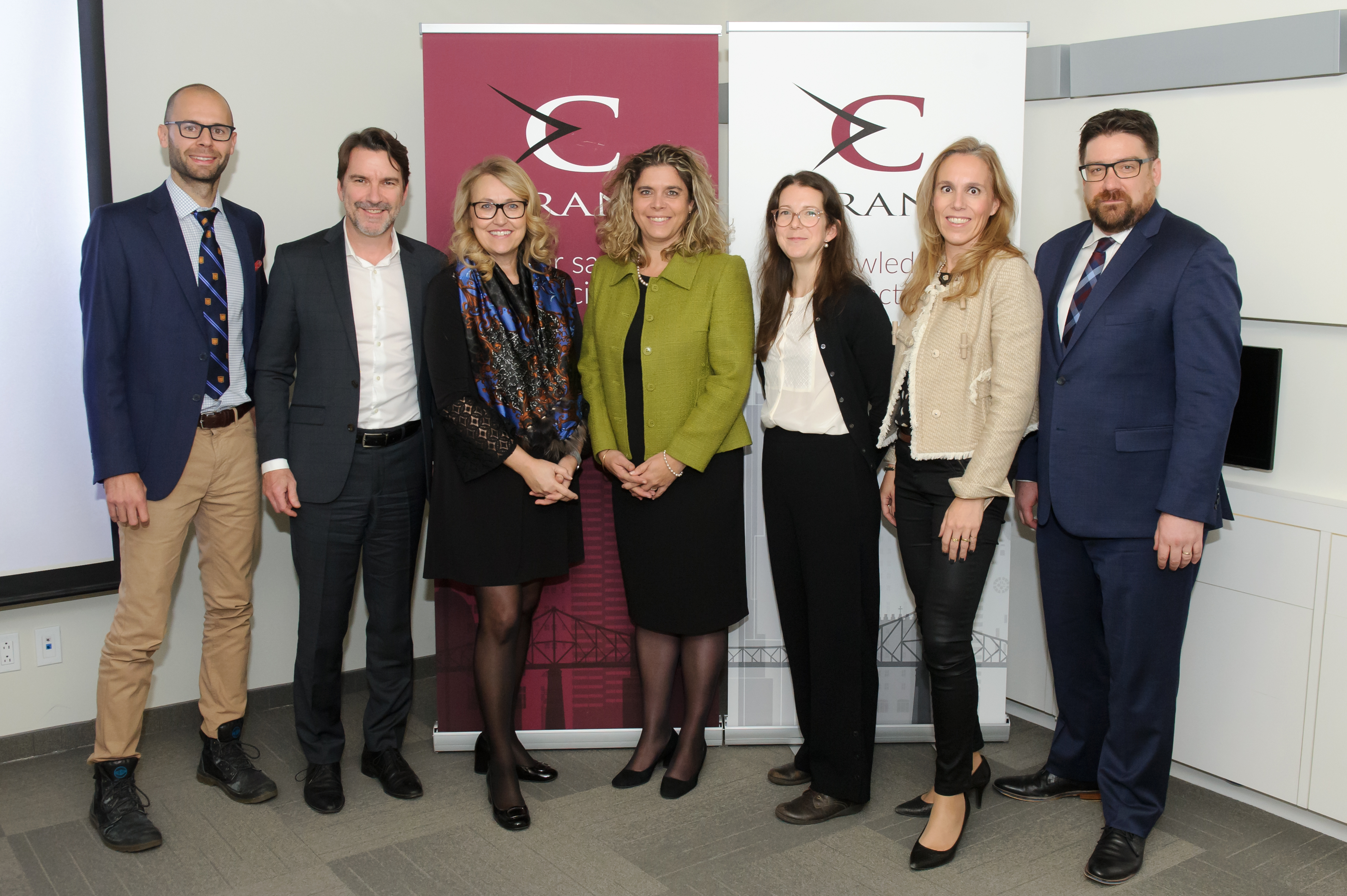 | | | |
| --- | --- | --- |
| | During this signature conference organized as part of CIRANO's 25th anniversary activities, in collaboration with Desjardins, Pauline D'Amboise, Secretary General and Vice President Governance and Sustainable Development at Desjardins, made a presentation on the theme "Sustainable Development: A Strategic Vector for Companies". Her presentation was followed by a roundtable discussion moderated by Daniel Normandin, Executive Director of the Institut EDDEC, with Sophie Bernard, Associate Professor at Polytechnique Montréal, CIRANO Researcher and Fellow, Justin Leroux, Associate Professor at HEC Montréal, CIRANO Researcher and Fellow, and Ms. d'Amboise. | |
Symposium: Portfolio Decarbonization - Issues and Challenges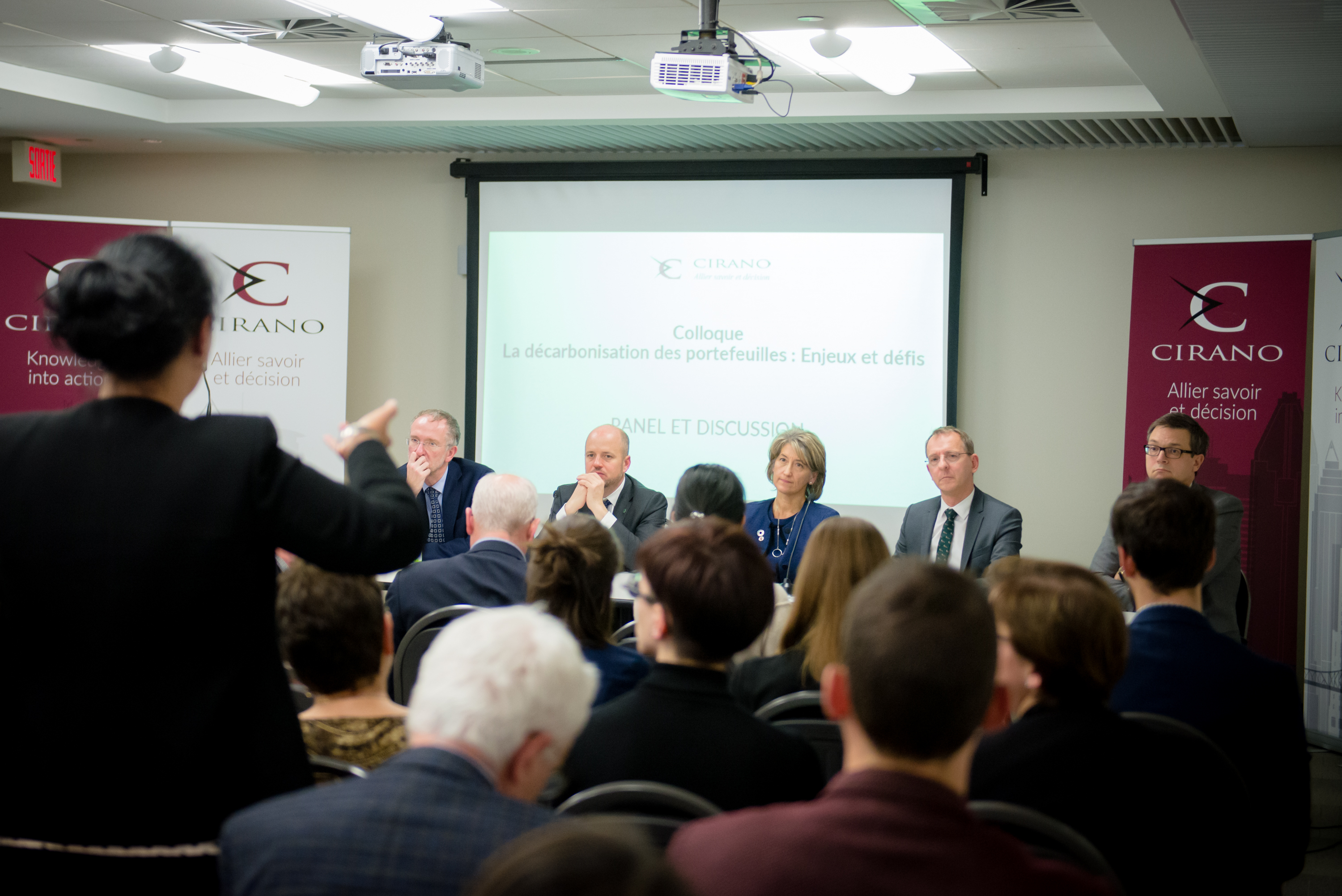 | | | |
| --- | --- | --- |
| | The purpose of this CIRANO Symposium organized by Michel Magnan (Concordia University and CIRANO) was to discuss the conceptual and practical issues arising in portfolio management in this new environment, including corporate disclosure as well as measurement and analysis of the impact of greenhouse gases. This event was organized in collaboration with the Desjardins Centre for Business Finance Innovation (Concordia), the S.A. Jarislowsky chair in corporate governance (Concordia) and the Financial and Organizational Information Chair (CIFO, ESG-UQAM). | |
OUTREACH
Nathalie de Marcellis-Warin participated in the Rendez-vous avec l'Autorité 2019


On November 25, 2019, Nathalie de Marcellis-Warin, CIRANO CEO and Full Professor at Polytechnique Montréal, participated in the Rendez-vous avec l'Autorité 2019. The Autorité des marchés financiers (AMF) has been a partner of CIRANO for many years. She participated in the "Responsible Artificial Intelligence" panel.


More information
François Vaillancourt Visiting Researcher at the Fundación Alternativas (Madrid, Spain)


In October 2019, François Vaillancourt, CIRANO Researcher and Fellow and Emeritus Professor at the Department of Economics at Université de Montréal, was a Visiting Scholar at the Fundación Alternativas (Madrid, Spain), an independent public policy research institute.


More information
Two CIRANO Researchers participated in the summit of women in manufacturing industry


On November 14, 2019, Nathalie de Marcellis-Warin, CIRANO CEO and Full Professor at Polytechnique Montréal, and Catherine Beaudry, CIRANO Researcher and Fellow and Full Professor at Polytechnique Montréal, participated in the first world summit of women in manufacturing industry, under the theme "Women's Industry 4.0".


More information
Suzanne Bisaillon appointed as an ambassador for the 100th anniversary of the Faculty of Pharmacy at the Université de Montréal


Suzanne Bisaillon, CIRANO Researcher and Fellow and Honorary Professor at Université de Montréal, was appointed as an ambassador for the 100th anniversary of the Faculty of Pharmacy at the Université de Montréal.


More information
Catherine Beaudry appointed as a member of the Board of Directors of QuébecInnove


Catherine Beaudry, CIRANO Researcher and Fellow and Full Professor at Polytechnique Montréal, was appointed as a member of the Board of Directors of QuébecInnove on November 5, 2019.


More information
Nathalie de Marcellis-Warin participated in the RE•WORK Responsible AI Summit


On October 24-25, 2019, in Montreal, Nathalie de Marcellis-Warin, CIRANO CEO and Full Professor at Polytechnique Montréal, participated in the RE•WORK Responsible AI Summit. Her presentation focused on Social Inclusion in the AI Pipeline.


More information
RESEARCH AT CIRANO
Stéphane Paquin, co-director of the book L'État québécois : où en sommes-nous ?

The book L'État québécois : où en sommes-nous ?, directed by Stéphane Paquin, CIRANO Researcher and Full Professor at the École nationale d'administrationn publique, and Robert Bernier (Full Professor at the ENAP) and prefaced by Guy Laforest (Director General of ENAP and member of CIRANO Board of Directors), with the collaboration of several ENAP teachers, hast just been published.
More information
Frédéric Marty, CIRANO Researcher and Researcher at the Centre national de la recherche scientifique (CNRS), published in three scientific journals this fall


"Plateformes numériques, algorithmes et discrimination", Revue de l'OFCE, volume 164, 2019
"La protection des algorithmes par le secret des affaires : entre risques de faux négatifs et risques de faux positifs", Revue Internationale de Droit Economique, volume XXXIII, 2019-2, pp.211-237
"Plateformes de commerce en ligne et abus de position dominante : réflexions sur les possibilités d'abus d'exploitation et de dépendance économique", Thémis (Revue Juridique Thémis de l'Université de Montréal - RJTUM), volume 53, 2019, pp. 73-104

Simon van Norden, chercheur et Fellow CIRANO et professeur titulaire à HEC Montréal, publié dans Oxford Research Encyclopedia of Economics and Finance


"Paper Measurement Error: A Primer for Macroeconomists", Oxford Research Encyclopedia of Economics and Finance. Oxford University Press.
UPCOMING EVENTS
Seminar: Fostering Innovation in the Public Sector in Quebec
Thursday, December 12, 2019
Luc Bernier, professor and holder of the Jarislowsky Chair in Public Sector Management at the University of Ottawa, will present the results of the CIRANO report "Favoriser l'innovation dans le secteur public québécois".
External Activity: Launch of the Bilan de la fiscalité au Québec - 2020 Edition
Thursday, January 9, 2020
Participate to the Launch of the Bilan de la fiscalité au Québec - Édition 2020. This activity is organized by the Chaire en fiscalité et en finances publiques (CFPP) in collaboration with the Association de planification fiscale et financière (APFF). Éric Girard, Minister of Finance, Minister responsible for the Laval region, will give the keynote address. Luc Godbout, Professor of Taxation, Holder of the Chair, CIRANO Researcher and Fellow, will present an overview of this edition of the Bilan. CIRANO is a diffusion partner of this event.
IN MEMORY OF ANDRÉ BISSON



It is with deep sadness that we have learned the passing of Mr. André Bisson on Monday, November 25, 2019.


André Bisson was Chairman of the Board of Directors of CIRANO between 2002 and 2012. He was since then President Emeritus.