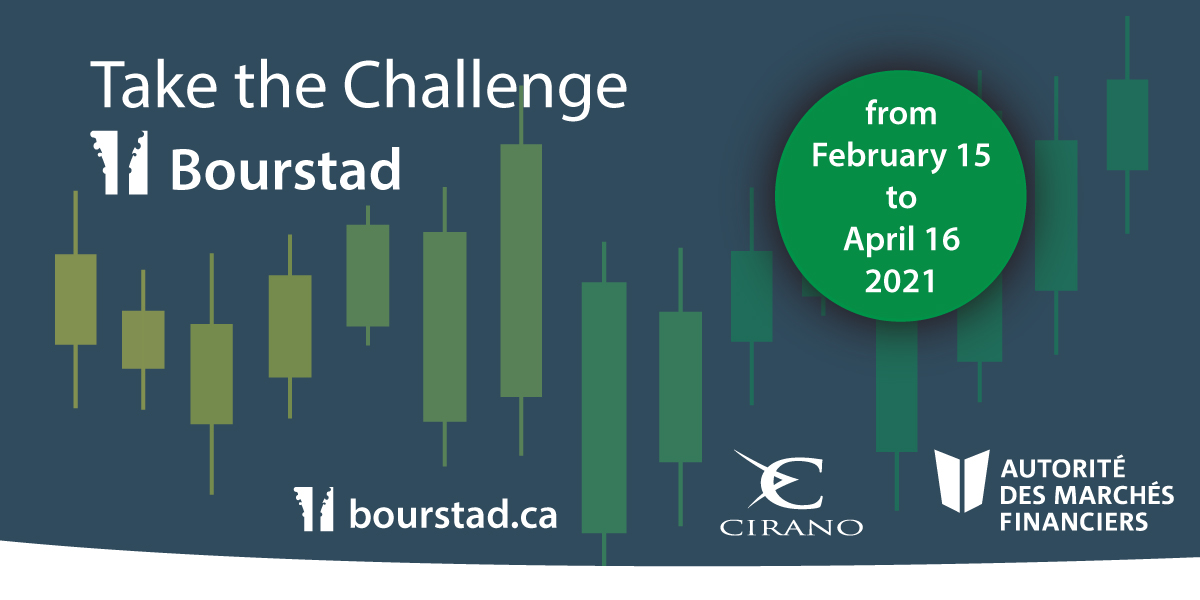 CIRANO and its partners in the Bourstad Program officially launched on January 19 the registration campaign for the Bourstad 2021 Challenge.
From February 16 to April 15, 2021, novice and experienced investors alike will have the opportunity to participate in the Bourstad 2021 Challenge and compete for prizes totalling more than $30,000. The Bourstad Challenge takes place on the Internet (www.bourstad.ca) and welcomes, each year, high school and CEGEP students as well as participants from the general public, including university students.
Participants must manage a virtual portfolio of $200,000 and invest this amount in various investment vehicles. Bourstad offers three types of participation: financial performance, portfolio management and responsible investment. The participants with the best performances will be rewarded at the awards ceremony to be held in May 2021.
The Bourstad simulations use a highly innovative technological platform: real-time transactions, daily dividend payments, compatibility with mobile devices, etc. This platform was developed thanks to financial assistance received from the Investment Industry Regulatory Organization of Canada (IIROC).
For the 2021 edition, the simulation proposes the choice between 2 selections of eligible titles: a) the Bourstad Portfolio, which consists of 545 securities composed of shares of Canadian companies and other countries (409), exchange-traded funds (94), actively managed investment funds (36) and currencies (6), or b) the Bourstad Plus Portfolio, which offers 104 additional securities, mainly options traded on the Montréal Exchange. In order to further support the contest participants and their teachers, CIRANO is offering this year a series of webinars during which its experts will address these topics: the functioning of financial markets, portfolio management, sustainable development and corporate social responsibility, the digital transformation of the economy and the sustainable economic impacts of the pandemic.
"CIRANO and its partners offer on www.bourstad.ca a wide range of resources that allow everyone to develop their savings and investment skills; it's always a win-win situation to take part in the Bourstad! competition", says Mr. Paul Bourget, Bourstad's project director at CIRANO
"Investing in the stock market by yourself is not a game and involves a lot of risk. Through its educational approach, Bourstad allows participants, especially those in high school and college, to acquire knowledge and skills in stock market investment that will be useful to them throughout their lives. In this regard, the Autorité des marchés financiers salutes the commitment of teachers who, despite all the additional challenges in times of pandemic, are investing in Bourstad 2021 for their students."
Mr. Camille Beaudoin, Director of Financial Education, Autorité des marchés financiers
"The Bourstad financial education program is part of CIRANO's economic and financial literacy projects. This initiative helps improve the economic and financial knowledge and skills of young people and the general public. Good success at this 34th edition of the Bourstad contest and thank you to our partners."
Mrs. Nathalie de Marcellis-Warin, President and Chief Executive Officer of CIRANO
"In a changing world, people are called upon to make increasingly important and complex choices about consumption and savings, and financial literacy is more essential than ever. We are very excited to be working with Bourstad again to foster learning opportunities in this area and to enable everyone to have greater confidence in their financial capabilities."
Ms. Cathy Sleiman, Senior Manager, Eastern Canada, TD Direct Investing, and Honorary Chair of the Bourstad 2021 Challenge
The Bourstad Program is an activity of CIRANO which receives support from many partners for this financial education project: the Autorité des marchés financiers, its main partner, the TD Bank, Investment Industry Regulatory Organization of Canada (IIROC), CFA Montreal, Finance Montreal, TMX Group, Hyprasoft, Les Affaires newspaper, Croesus and QuoteMedia.
During the 2019-2020 school year, this financial education program reached nearly 8,000 participants, including nearly 2,300 participants in the Bourstad 2020 contest. There are currently more than 32,000 distinct users on the Bourstad platform.
Information: Paul Bourget, Bourstad's project director at CIRANO (bourgetp@cirano.qc.ca or 514 985-4000, poste 3006)