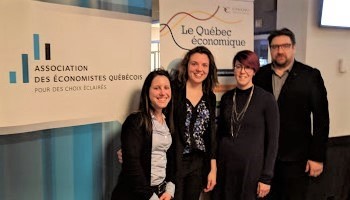 On March 26, the Outaouais chapter of the Association des économistes québécois held a 5 à 7 organized in collaboration with CIRANO on the recent 2019-2020 budget of the Government of Quebec - "What new directions on major public policy issues?".
Marcelin Joanis, Vice-President of Research at CIRANO and Associate Professor at Polytechnique Montréal, and Stéphanie Lapierre, Economist and Project Director at CIRANO, were the experts invited for the occasion.
Based on the recent edition of Le Québec économique produced by CIRANO, the speakers presented in the first part of the session the main features of the economic situation in Québec and its regions. In the second part, the experts presented the highlights of the Quebec budget by taking a critical and constructive look at some specific aspects.