Ms Andrée-Lise Méthot, Founder and Managing Partner of Cycle Capital Management (CCM), shared her experience during a networking reception gathering researchers and business people.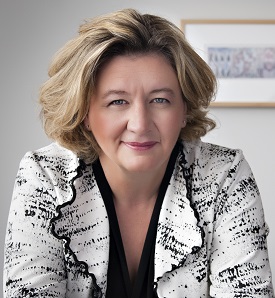 Andrée-Lise Méthot is Founder and Managing Partner of Cycle Capital Management (CCM). In less than 10 years, this investment platform has closed 5 funds and has become the most important cleantech venture capital fund manager with $385M in AUM. To this day, Cycle Capital has invested more than $150M which triggered more than $1B in co-investments in its portfolio companies. Mrs. Méthot has also founded the Ecofuel Accelerator and cofounded the Ecofuel Fund, Écotech Québec and Alliance SWITCH.

She also co-Chaired the United Nations Environment Program's Task Force on the Social Life Cycle Assessment (SLCA). She is a member of numerous Boards, including Sustainable Development Technology Canada and Transition énergétique Québec. She is also a member of the Bloomberg's New Energy Pioneers' jury and of the Cleantech Group's advisory committee.

In 2018, Andrée-Lise was named Officer of the Ordre national du Québechas. She also received tribute awards from the Association des femmes en finance du Québec (AFFQ) and the Ordre des ingénieurs du Québec (OIQ). Her leadership was also previously recognized by CleanTechnica and Corporate Knights.
When: Monday, September 24, 2018, 5:00 pm - 7:00 pm
Where: Center for Interuniversity Research and Analysis of Organizations